Lloyd Godman - News - events - current exhibitions - for old news - see the archive - © Lloyd Godman
What's been happening and what's about to happen?
Lloyd has been invited for a solo exhibition of the Entropy series in 2011 - at

Australian Centre for Photography

The Australian Centre for Photography

Installation: Sun 24-Wed 27 July 2011

Preview: Thurs 28 July 2011

Exhibition Gallery 3: Fri 29 July-Sat 27 Aug 2011

The exhibition will include several large composite works, a scatter of triptychs and the Entropy String random projection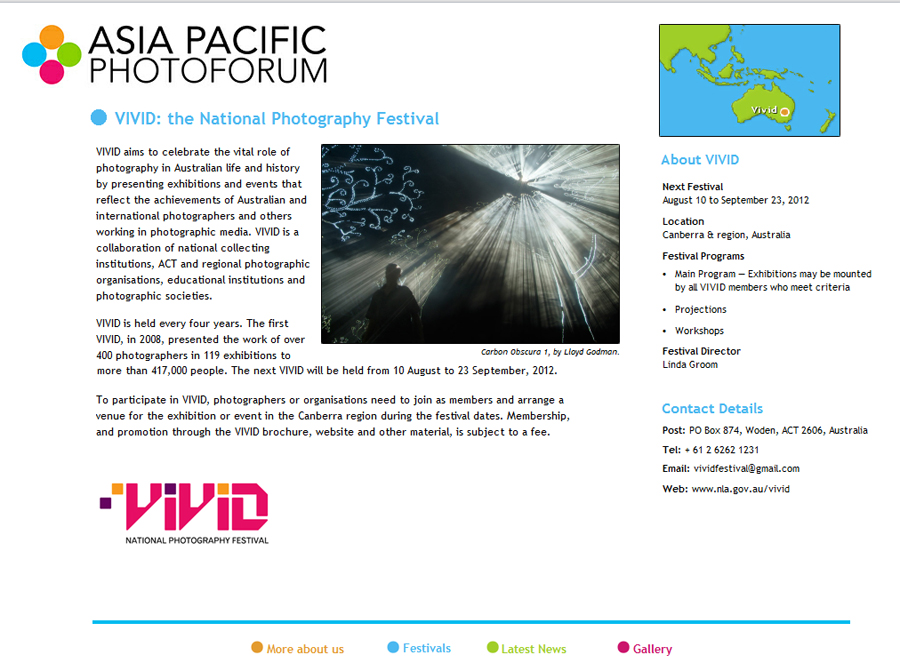 Lloyd Godman's stunning Carbon Obscura photograph has been used to promote the next Vivid National Photography Festival
Canberra in 2012 - click on image for more information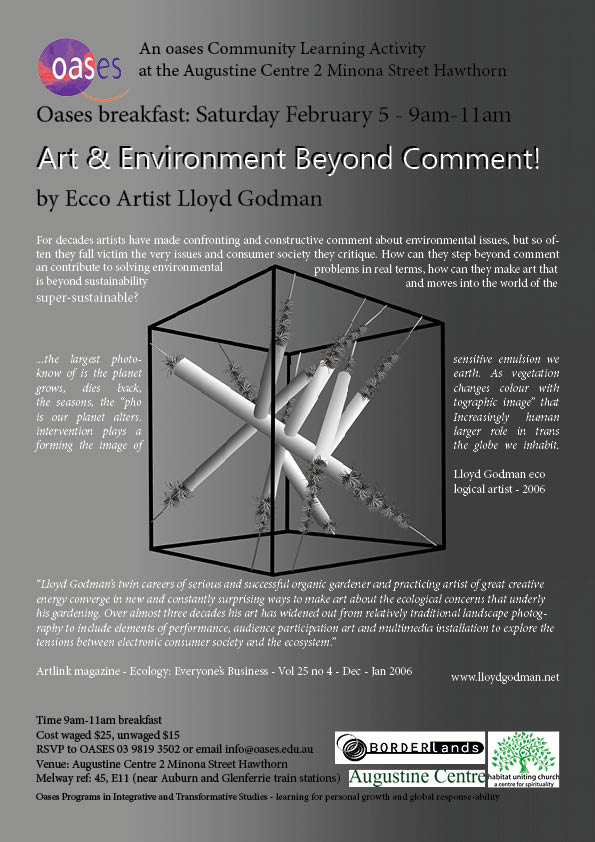 Wilsons Prom moonlight light-painting

photographic workshop

Not only is this workshop suited to experienced artists and photographers, but anyone who wishes to unlock their creative potential with the natural environment through the use of a camera and LIGHT will gain a great deal.

A 3 day workshop in landscape photography with artist/photographer Lloyd Godman & Silvi Glattauer. Camping and working at Wilson's Prom for 3 days, this workshop is guaranteed to be an intense experience. Rather than a quest for the classic landscape image, explore strategies for identifying and developing a personal photographic vision, style or iconography.

Dates
Thurs evening 17 – Sun 20 - Jan 2011
Cost: $480 (camping & transport not inc.)


What you should know & bring?
Further information on the workshop
please ring Lloyd 0448188899


Enrolments: Places fill quickly. You are advised to book early
to avoid disappointment.

Reserve your place by
ringing Rob Hails on (03) 9482 1605 .
Ephemeral Sculpture workshop at the Baldessin Press!

Lloyd is offering a further workshop at the Baldesin Press.

The course is suited not only to experienced artists, but to anyone who wishes to unlock their creative potential with the natural environment. Work outside, using natural , recyled and found objects, in the bush surrounding the Baldessin Press studio. Non-invasive creativity and innovation, at one with nature and natural laws. At the end of the 4 days, as part of the workshop, learn techniques on professional photographic documentation of your sculpture, and then leave the work to nature. Be guided enthused and inspired by Eco-artist Lloyd Godman.

Dates: Fri 23 – 26 Mon - Jan 2011
10 am - 4.30 pm
Cost: $595 (materials, notes & equipment included)
Deakin Small Sculpture Award

Lloyd is one of 39 artists of 249 entries who has had a work selected for the Deakin Small Sculpture ward

Expanding dimension is a super sustainable sculpture that combines the incongruity of industrial conduits, drains, pipes, exhausts, with Tillandsias, which are unusual xerophytes; epiphytic plants that reverse the day night cycle of photosynthesis and have special moisture absorbing cells called  trichomes.  Obliquely the super-sustainable work, also references organic structures of arteries, veins, membranes and epidermis.

 

To fulfil the dimensions of an entry into the Deakin University small sculpture Art Award the work needed to be no larger than 700 w x 700 L x 700 H. However over a period of years the Tillandsia plant aspect of the work will grow larger than the original dimensions. The plants will grow down the wires that may ultimately suspend the work between buildings at an exponential rate.

Digital drawing for a tillandsia Expanding dimension - 700 w x 700 L x 700 H - Aug 2010
RMIT- Research Seminar Presentation Lloyd Godman
When: Wed 29 Sept 2010
Time: 2.30pm - 3.30pm
Where: Building 7 level 2 Room 44
From the early 1980s. Godman's art practice has
always been innovative, experimental and ecologically
based. His recent work investigates a paradigm shift
that moves art from not only commenting on environmental
issues but contributing to the environment
through living plant works in what is termed :
super-sustainable art
June - 2010 National Photographic Art Prize  opening 31 July 2010

At the opening of the Albury National photographic prize - 2010 National Photographic Art Prize  - $10,000 Acquisitive, $10,000 Acquisition Fund Dr Isobel Crombie awarded the prize and selected 2 works for accusation to the Albury Art Gallery Collection and one of these was the large Entropy string 14. work.

The Entropy string 14 work - a composite mosaic of Triptychs 370 - images 1110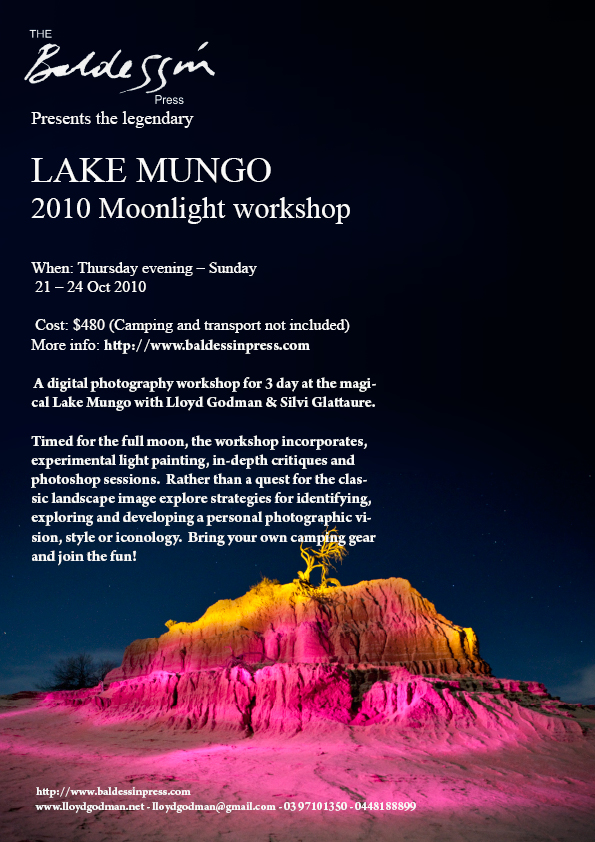 15 July - 2010 Nillumbik Art Collection

Lloyd is delighted that the Nillumbik Shire Council, Victoria Australia has purchased four works from the Entropy series for the Nillumbik Art Collection. The 4 works trace the regeneration of the bush after the 2009 Victorian bush fire.

.The prints have been printed by Pharos Editions

Frames 89, 90, 91 From Kinglake toward St Andrews Feb 17 2009 - 1000mm x 225mm

Frames 0440, 0441, 0442 A Walk in the fog and snow, Kinglake - June 10 2009 - 1000mm x 225mm

Frames 622, 623, 624 On a walk from Kinglake to Steels Creek - June 23 2009 - 1000mm x 225mm

Frames 36, 37, 38 A walk at Brian and Di Gilkes studio, Ninks Rd, St Andrews - 25 Nov 2009 - 1000mm x 225mm
7 July 2010 - The Gigs that Rocked New Zealand

15 of Lloyds' photographs from the early 1970s have been selected for an new book - titled The Gigs that Rocked New Zealand.

The book is published by:

Josh Easby

Hurricane Press Ltd

PO Box 568, Cambridge 3450, NZ.

Bruce Jarvis, a leading concert photographer from the 1970s-1980s has been working as photographic editor for the project

The book launch is due for November 2010. Check out more work from this period.

Mick Jagger, Western Springs, New Zealand, 1973
June - 2010 National Photographic Art Prize 

Lloyd spent 3 weeks constructing a large print 115cm x over 200cm from one of the Entropy composites - the image has over 1100 images which has meant opening each in raw and adjusting, then arranging on a large canvas.

The print work has been accepted into the Albury National photographic prize - 2010 National Photographic Art Prize  - $10,000 Acquisitive, $10,000 Acquisition Fund and $1,500 John and Margaret Baker Memorial Fellowship available for contemporary Australian photographers. The exhibition runs Friday 30 July - Sunday 26 September 2010.

The composite mosaic images were originally created in a low resolution form as part of a complex randomized projection exhibited at TarraWarra Museum of Art - Bushfire Australia - 28 March - 25 July 2010.

Lloyd was awarded a Regional Arts Victoria - Arts Recovery Quick Response grant to complete the projection work in collaboration with Alex Hayes, who wrote an application in C++. The large higher resolution image is the first print made as an extension of the projection composites.

The composite mosaic of Triptychs 370 - images 1110

Brian Gilkes of Pharos Editions printing the work from his high quality epson 44" printer. .
Free Visual design Workshop with Lloyd Godman

Date:  Sunday 18 July 2010
Venue: Kinglake West Mechanics Institute Hall

This is a free workshop for bushfire affected artists. It is offered as part of a Regional Arts Victoria Grant for the Entropy project that Lloyd worked on with Alex Hayes.  Lloyd's Entropy String randomized projection work is part of the extensive Bushfire Australia exhibition at TarraWarra Museum of Art, Healesville and runs to 25 July 2010.
The workshop is limited to 12 participants
The workshop outlines the visual strategies of gestalt principles of image design, how an audience reads these and more importantly how we can use them in visual image design to create images with visual impact. It also looks at the visual philosophy behind the fundamental course taught at the Bauhaus by Johannes Itten.
Equipment: It is useful for participants to have a digital camera and computer for the workshop
Workshop times:  10.30am – 4.30pm

Program
Introduction of the participants and the structure of the workshop.
Looking at the 4 fundamental gestalt principles and Itten's theories on image design.
12: noon Shared lunch
Exploring subjects using a camera based on these Gestalt design principles
Working with images and critique
Show and tell of images created on the course
Farewell

For information or to book please phone 97101350 or 0448188899

Lloyd at TarraWarra explaining the Entropy projection -

photo Silvi Glattauer
France trip

From the 8th to 28 May 2010 Lloyd is in France, researching vertical gardens, the work of Patrick Blanc and also shooting more images for both the Di/vision and Acute series

| | |
| --- | --- |
| | an image from the Di/vision Series shot in the first few days in Paris from the 2010 trip |
| | an image from the Acute Series shot in Paris from the 2010 trip |
Critique Day with Lloyd Godman - Limited to 5 participants

 This is a new and exciting addition to the Baldessin Press array of workshops. The critique day is designed for artists working on personal projects, and both undergraduate and postgraduate students who feel they would like more creative stimulus in their projects.

 If feel you would like to

• push your work further into areas of new discovery

• be part of a meaningful, insightful yet challenging critique with other artists

• learn strategies to look at your work from a critical perspective

• discover ways to make sense of dense art texts

This is critique day is for you!

Using participants work and art practice as a foundation, we will explore:

• strategies to analyse your work from three perspectives, technical, aesthetic, and content or meaning

• how these three areas interrelate

| | |
| --- | --- |
| Where: | Baldessin Press |
| When: | Sat - 5 June 2010 |
| Hours: | 10 am - 4 pm |
| Cost: | $200 |
| Enrolments: | (03) 9482 1605 |

Lloyd Godman was head of the Photography Dept at the School of Art Dunedin, NZ for 20 years and supervised both undergraduate and postgraduate photography projects, so he has a great deal of experience to offer. During this period it had a reputation as the most experimental photography departments in NZ and offered a model to other schools.

 

 Lloyd Godman - "the lateral thinker of Australian and New Zealand Photography".
Julie Millowick Daylesford foto biennale 2007

 "a practicing artist of great creative energy" – Artlink Magazine
TarraWarra Museum of Art - Bushfire Australia - 28 March - 25 July 2010

Lloyd has been awarded a Regional Arts Victoria - Arts Recovery Quick Response grant to complete this work -

At present Lloyd is working on an intricate and extensive projection work based on the 2009 bush fire for an exhibition at TarraWarra Museum of Art, in March 2010. This work includes several thousand images shot on 20 trips into the area over the past year, and maps the regeneration.

The randomized projection work consists of about 20 large composite images - each one has about 1500 images which are arranged as triptychs – where the same scene is photographed to create a panorama but with visual disjuncture. Elements like burnt trees repeat from frame to frame, but with a visual difference in perspective and viewpoint. The work explores Entropy - entropy - entropy is a measure of the disorder of a system.
I have been working with an IT friend – Alex Hayes - who has written an application in C++ that will play random sequences from the huge bank of images. There are now 21 of these master composite images that the sequence can begin with, then its slowly zooms into a section of a composite image, till it selects a triptych and scrolls several of these across the screen, then randomly selects a single image and zooms in until this fills the full screen. After this it fades and returns to a different composite image before resuming a different sequence.


The exhibition opens on the 28th March 2010

One of the large composite images that is part of the projection

One of the triptychs that make up the 21 composite master images

28 March - 25 July 2010

Bushfire Australia will examine the recurrence of bushfire imagery in the work of Australian artists. The exhibition will draw on works from state, public and private collections, including Australian historical paintings and new works made in direct response to the 2009 fires, creating a reflective, poignant and ultimately hopeful exploration of this dramatic Australian phenomenon.

• Reflection & Regeneration; An exhibition by artists impacted by Black Saturday
Lloyd is one of several photographers who's work has been selected for The Bushfire Photo Exhibition which will be held at Bridges Restaurant/Nursery, Hurstbridge,Victoria from February 7 until February 28.

Open 10am until late at night Wednesday to Sunday.

The photo exhibition will run in conjunction with the release of a new book on the bushfires. The book, Footsteps in the Ash, is a record of the devastation of the St Andrews and Strathewen communities where 37 people died and 117 homes were lost. Works are available for sale at the exhibition with proceeds going to charities. The prints for this exhibition have been sponsored by the Harold Mitchell Foundation and printed by Pharos Editions

also see the other exhibitions with this work

• Reflection & Regeneration; An exhibition by artists impacted by Black Saturday
Lloyd is one of seven photographers who's work has been selected for an exhibition at the World Trade Centre Gallery (WTC Gallery), to remember the Black Saturday Bushfires in February 2010.

Title: Reflection & Regeneration; An exhibition by artists impacted by Black Saturday

Curation: The exhibition is curated by WTC WHARF

Sponsorship: Printing of the photographs for the exhibition is sponsored by Bond Imaging.

Timing: 4th February – 11th March 2010

More Information: The WTC Gallery is a public art gallery at . Concourse Level, World Trade Centre Melbourne - Siddeley Street, Melbourne 3005

office number 9629 9228 or 0402229238

Gallery Location: The WTC Wharf Gallery – World Trade Centre Complex, Siddeley Street, Melbourne

Launch: Morning Tea/Breakfast 4th February TBC
Entered - 22 Dec 2009 - WOMADelaide - NOW!

Apart from the many environmental art projects Lloyd is engaged in he enjoys photographing musicians with his own experimental aesthetic.

The wait is over, for WOMADelaideans like Lloyd across the country!  WOMADelaide is excited to announce the festival's full program, with another 31 incredible acts added to an already abundant preview list. WOMADelaide 2010 will be the largest and most diverse programs ever with over 500 artists from 27 countries in an extended four-day event.  Between Friday 5 and Monday 8 March 2010 where Adelaide's Botanic Park will once again transform into an oasis of music, arts and dance from around the world. - WOMADelaide looks forward to seeing you for four heavenly nights and three spectacular days in Adelaide's beautiful Botanic Park in 2010!

Since moving to Australia in 2005 WOMADelaide has become my musical home, a place of musical roots where I become centred to begin the year. If you have never been I highly recommend you make it this year. Check the web site WOMADelaide for more info and as tickets are limited book early!

Check out Lloyd's Womad images from 2005 - 2009

Seun Kuti and Egypt 80 - Womad - Adelaide - Australia - 2009 - Photograph Lloyd Godman