Lloyd Godman - Quotes - CURRICULUM VITAE - © Lloyd Godman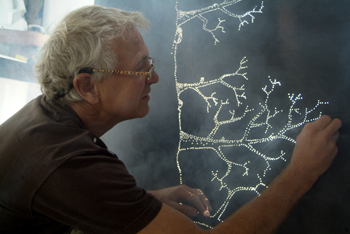 Lloyd Godman working on Carbon Obscura - 2007 photo - Silvi Glattauer
Lloyd has an MFA from RMIT University Melbourne (1999) and has had over 40 solo exhibitions and been included in more than 250 group exhibitions. He established and was head of the photo section at the School of Art Otago Polytechnic New Zealand for 20 years before moving to Melbourne. He instigated and helped organize several major arts events including:
• Photographs 86: 30 exhibitions of photography, 3 workshops and 7 lectures on photography in Dunedin during a 4 week period.
• Art in the Subantarctic: an expedition of 11 artists to the Subantarctic Islands of New Zealand. Which included such artists as Bill Hammond, Lawrence Aberhart. At the time the touring exhibition from this exhibition toured more venues than any previous exhibition organized by the Art Gallery directors Council.
His work as always been experimental. Some of his current work explores living plant works and super-sustainable art.
Quotes by Godman
...the largest photosensitive emulsion we know of is the planet earth. As vegetation grows, dies back, changes colour with the seasons, the "photographic image" that is our planet alters. Increasingly human intervention plays a larger role in transforming the image of the globe we inhabit.
Lloyd Godman ecological artist - 2006
Working with chemical based photographic processes from the early 1970s to 2005, I became acutely aware of the importance in exposing the material for the correct amount of light.  Too much light and the print was over exposed and too dark – too little and the print was underexposed and  too light. Chemical composition also played a part -  exhausted or contaminated chemicals and the development of the negative or print in the tray was ruined. Making a fine art photographic print was an art and skill that demanded a series of precise conditions. There was an unseverable connection between cause and effect.
Lloyd Godman ecological artist - 2009
we will not solve our environmental problems until people who work with plants are valued and paid more than real estate agents, property developers, bankers, share brokers, miners and industrialists. 2010 Lloyd Godman
The earth song demands the patience of silence to hear. 2015 Lloyd Godman
When the darkness is pushed away by the gathering  light, I can water the garden of life. 2015 Lloyd Godman
Quotes by others
'....in the paper A "Flight Manual" for Air Plants, a very small "soft" intervention atop a tall building could have big implications for the future of vertical vegetation and greener cities.'
Danial Safarik CTBUH Editor CTUH Journal 2015 issue III
It is doubtful if Australasia has a more protean, visionary and ecologically committed artist than Lloyd Godman. Born in Dunedin, New Zealand in1952, and now living in Melbourne, Australia, he has been exploring environmental issues through photography (in combination with sculpture, painting and installations) since the early1980s. He began taking more or less traditional landscape pictures in the late 1960s, but exposure to iconoclastic artists like Man Ray, Kurt Schwitters, and Joseph Beuys inspired him to begin chipping at the edges of photography in the interest of breaking down boundaries.
Black and White magazine USA issue 57 2008
"Lloyd Godman's twin careers of serious and successful organic gardener and practicing artist of great creative energy converge in new and constantly surprising ways to make art about the ecological concerns that underly his gardening. Over almost three decades his art has widened out from relatively traditional landscape photography to include elements of performance, audience participation art and multimedia installation to explore the tensions between electronic consumer society and the ecosystem."
Artlink magazine - Ecology: Everyone's Business - Vol 25 no 4 - Dec - Jan 2006
"The lateral thinker of Australasian photography" - Julie Millowick 2007
as physical objects, Godman's artworks are purifiers of the air as well as the soul, suppliers of colour as well as calmness, and filters of water as well as the human spirit.

John Power October 2011
Amazing work
Yvonne Lynch | Team Leader |Tree Planning, Urban Landscapes City of Melbourne
Super impressive stuff! 
Professor Brendan Gleeson FASSA│ Director, Melbourne Sustainable Society Institute
 A perfect blend of art and ecology. An artist ahead of the pack!!
Cindy McLeish is an Australian politician, and has been the member for Seymour in the Victorian Legislative Assembly since 2010.
Under your inspiration I'm imagining all the roofs of the world turning green! You are a real visionary
Diana Dunningham Chapotin
We've heard about green roofs: their eco-credentials and energy efficiency. But what about green walls?
'Living Walls' (aka bio-walls, vertical gardens) are either freestanding, or part of a building, and covered with greenery. Examples of living walls can be admired from Tokyo to Toronto and London to LA. Some have been devised for pure aesthetics, as in the case of Jeff Koon's 'Puppy' guarding the Bilbao Guggenheim, or Lloyd Godman's Bromeliad installations in Australia.
'Go Green' seems to be the latest mantra for one to get his/ her work recognized, but there are very few artists like Llyod Godman who really understand the real meaning of 'Go Green' and bring it into practise which executing their projects. It would be very easy for a design conscious eye to see the reflection of an intelligent green design in Godman's work. Lloyd is experimenting with living suspended tillandsia sculptures that grow with minimal water in hot and dry climates. The only maintenance required is the trimming the new growth which provides more material from further work".
dzine trip on line design magazine.