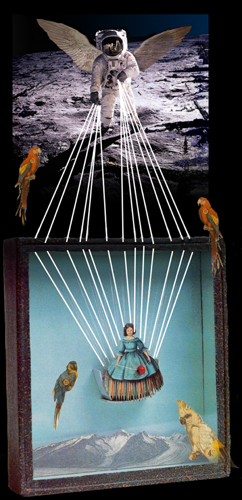 "Cornell's Strings"
Lloyd Godman Laser Print 2003
Joseph Cornell
Mail Art Call for Exhibition Marking the 100th Anniversary of the Birth of Joseph Cornell 24 December 2003, will be the 100th anniversary of the birth of surrealist artist Joseph Cornell. The exhibition is to honor and celebrate his life and work. Official Call and Exhibition Web Site: http://www.geocities.com/bobclaut/art/mailartcall.html Deadline for all entries: Monday, 13 October 2003 Medium: stamp art, mail art, post cards, envelopes Exhibit: all entries exhibited, exhibition begins on-line on 24 December 2003. The live exhibition in Modesto, California, is early January 2004. Return: none Size: no larger than 9.5 x 7 x 1 inches or 24 x 18 x 3 centimeters. Send entries to: Joseph Cornell Mail Art Exhibition 404 Patrick Lane Modesto, CA 95350 USA Direct questions to Bob at bobclaut@yahoo.com
Sponsored by The Edge Studio Gallery, Modesto, California Joseph Cornell Centennial Committee Modesto Art Museum (MAM) Joseph Cornell Centennial Mail Art Exhibition The Edge Studio Gallery 1215 H Street, Modesto, California 6 March - 4 May 2004 Opening Party: 11am to 8 pm, 6 March 2004
Joseph Cornell Centennial Mail Art Exhibition Opens March 6, 2004 See more than 100 pieces of mail art from 17 countries celebrating the 100th birthday of American surrealist artist, Joseph Cornell at The Edge Studio Gallery in Modesto, March 6 to May 4, 2004.
The exhibition opening and birthday party is Saturday, March 6, 2004, 11 am to 8 pm. Regular gallery hours: Wed. through Fri. 11 am to 4 pm, Sat. 11-2. Open 5-8 pm the third Thursday of the month. 1215 H Street, Modesto, California. 209-529-9286. I hope you can make it to the show.
The exhibition moves to New Mexico in the fall of 2004 for a second exhibition.