Mailart works 1989 - 2005 - © Lloyd Godman
Bathtub Postcard Submissions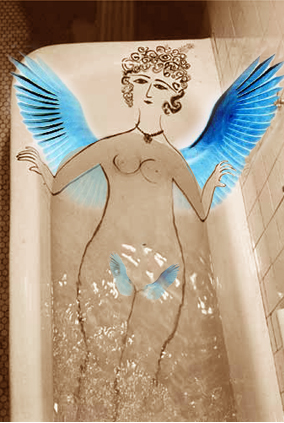 Lloyd Godman 2003
Opening Reception of the Bathtub Art Show 8/28/03 The tub sat center stage, The bathtub "gin" was ready (and gone in 15 minutes), and people surged in and out of The Know during this Last Thursday August opening to view local art, international postcards, and films of the bathtub. In the Summer of 2003, before the museum opened, a call for hand made postcards was sent out through word of mouth, mail-art websites, posters & flyers, and an arts newsletter. Over 50 postcards arrived from around the world to be shown in the Bathtub Art Show in Portland Oregon (August 28 - September 22, 2003). The postcards were displayed in a clear shower curtain overhanging a vintage 1900 bathtub. To see the orginal installation, look at the Bathtub Art Show snapshots. Finally the postcards are online for those of you who could not attend the art show. You may view the postcards in a couple of ways. I've organized them under several mini exhibit categories that you will find below. You may skip to a specific category or start with "The Bathtub" and click the link to the next gallery at the bottom of each page. Or in the left hand column I have listed the artists and where the postcard came from. Clicking on the artist will bring you to the gallery page they are listed in. I've tried my best to list everyone's piece as accurately as possible. The mediums listed are my best educated guess. If you find anything incorrect please let me know. Enjoy the Exhibit! Carye Bye
Deadline to be in the Bathtub Art Show: August 15th, 2003


Bathtub Art Museum
P.O. Box 6662
Portland, Ore. 97228
Contact: Carye Bye
503-735-4796

The Bathtub Art Show
August 28th - September 22, 2003
@ The Know
2026 NE Alberta St, Portland, Oregon, USA
(open 2 - 6 pm daily, and 6 - close during events)
Opening Reception
Last Thursday, August 28, 2003, 6-9 pm
Bathtub Art Fair
Saturday, September 13, 2003, 12-5 pm
During the Alberta Street Fair
The museum is collecting handmade bathtub-themed postcard art.
Guidelines
Style: Follow general postcard style: Image on one side/correspondence & address on other. The postcard should be made by hand and mailed without an envelope. Note: Both sides of the Postcard may be on view to the general public.
Size: Postcard size is around 4 x 6 inches. Just under or over is okay.
Subject: A Bathtub image must appear somewhere on the image side. (part of bathtub is okay)
Samples: Here are two samples of handmade postcards sent to me. One is an altered photo, the other a drawing. Postcard Art Examples
Note: All postcards sent are donations to the Bathtub Art Museum and will not be returned. If you want credit for your donation please put your name and contact information on the back of the postcard.(emails or P.O. Boxes are best since the backside of the postcards may be on view). Postcards will become part of the permanent collection and may be in public art shows and also shown in on-line exhibits.
Return to Bathtub Art Museum Home