A purist approach to the photographic medium arose during the 1930s, and has remained popular ever since, where cropping ("cutting" into the full area of the negative) the image was a dirty word. Many photographers though part of the art of photography was to framing the scene tightly within the boundaries of the camera frame, many still see this as an essential aspect of serious photography. By printing an image with a black boarder not only is the full frame referenced but the format of the camera used, 35mm, 120 or 4x5. The print can be made with a very fine black boarder or a much larger one where the information about the type and manufacturer of the film are referenced.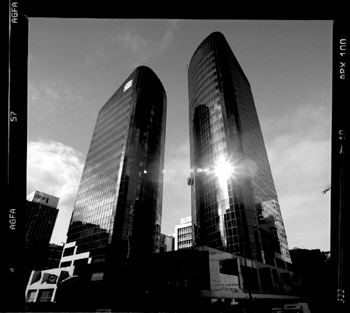 Detail from Auckland II, New Zealand 1998 Lloyd Godman
In some cases, like with Hasselblad cameras, the specific marks around the outside of the frame even defines the make of camera used.
Apart from the full negative reference, the technique also offers the image an aesthetic device that frames the images and holds the visual material in a neat rectangle or square and some photographer use the technique more for this reason.


Comment on this resource