Sequence viewing > Light & Lighting - Resource - © Lloyd Godman
Light in Photography -   LIGHTING - FLASH LIGHTING -
Studio Flash Lighting - ACCESSORIES - SNOOT

The snoot is a cylindrical attachment that produces a narrow beam of light that can be projected to very specific areas of the scene. While they can be brought from the manufacturer, devices can be improvised by the photographer that direct the light in a very similar manner. A piece of card or sheet aluminum can be cut and folded to form a cone. Be aware that such devices are quite close to the modeling lamp and because of the shape of the cone heat can build up to a point where the snoot becomes very hot. In some cases a card may ignite or in the case of aluminum the photographer might burn their hand. Often a manufacturer will design the snoot to be fitted in such a manner that another device fits between the snoot and the flash unit. While this might be a small honeycomb of filter attachment it often acts as a device to dissipate the heat build up.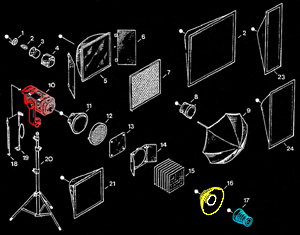 Move over image to view roll over image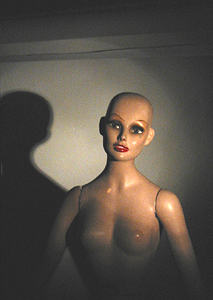 The snoot can be attached to the front of the light to do just the opposite, It directs the light in a very small beam and may only emit a small circular ball of light onto the image. A snoot can be made quite easily from a sheet of metal curved into the right shape.
REMEMBER IT IS NOT WISE TO USE CARD BOARD, PLASTIC OR PAPER FOR THIS AS THERE IS STILL SOME HEAT FROM THE UNIT AND THEY COULD CAUSE A FIRE.
Want to learn more? - do a workshop or one on one with Lloyd Godman